Our Most Popular Categories
About Us
We provide the fastest way to connect with businesses around the world!
ContactForSupport is the leading online telephone directory that helps you track down thousands of local businesses within minutes, at anytime and from anywhere. Our free phone number search directory offers you the easiest and most accurate way to find verified contact details, mobile numbers, store locations, business hours, customer service numbers, and toll-free numbers for businesses in your neighborhood and beyond.
With easy-to-navigate service categories, premium listings, popular search tags, and helpful options, ContactForSupport business directory provides the most comprehensive database of individual businesses, industry segments, and geographic-specific listings.
Our online phone book provides you one-tap access to the largest listing of businesses for any given city. All you have to do is to type in the company name or the relevant keywords (query) in the search box and our search engine will quickly scan through thousands of business listings in our database to provide you the most relevant and up-to-date search results with complete business info and customer service numbers.
A one-step process that's simple, quick, and easy! Up-to-date user reviews and ratings give you complete insight about the performance of the business and compare it with other preferred vendors, thus helping you make a wise choice.
Featured Listings
Editor's Pick
Why choose us?
Here's why you must choose us as your online business directory:
More than 100 different verticals
Restaurants, airlines, or educational institutions – whatever you may be searching for, we ensure you never run out of options.
10,000+ business listings
Our robust database includes over 10,000+ business listings. And we are growing by every minute!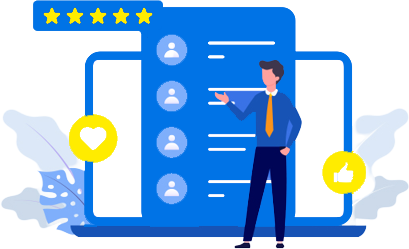 Verified contact details
Enjoy premium access to the most accurate and verified business details for trusted business interactions.
Genuine feedbacks and user reviews
Verified user reviews help you scan through different service providers to help you make an informed decision.