Layovers and air travel are synonymous to each other. While these layovers can cause a great amount of inconvenience, it can be a perfect opportunity to satiate your wanderlust. One such is the airport located in the heart of texas, where passengers can make the most of their layover as there are plenty of things to do in Dallas Airport.
Whether you're at DFW for a few hours or a whole day, the airport has a variety of intriguing activities, restaurants, and shopping. There's plenty of the things to do near Dallas Texas as well as things to do at DFW Airport itself that keep you occupied as you wait for your next flight.
In this article, we will explore the wide range of opportunities that makes your layover enjoyable, memorable and time well spent at DFW.
Let's delve into your 'Dallas Airport things to do' list –
Shopping and Retail Therapy
As you pass through the security, a world of renowned brands opens up. With multitudes of options available, shopping at DFW becomes an irresistible option.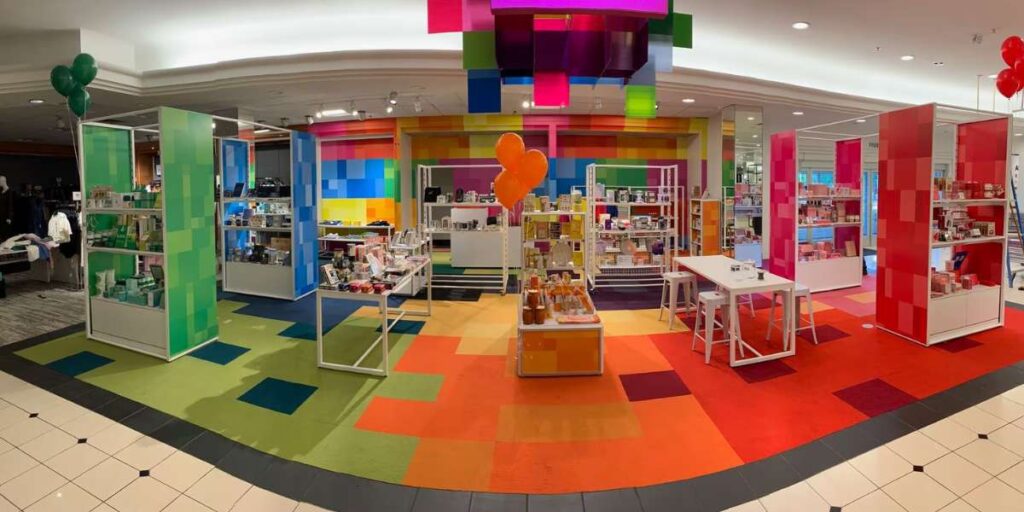 Get ready to indulge into the retail therapy as every nook and corner of the terminal holds the promise of unique finds and cherished souvenirs from southern culture. For those who seek a taste of Texan and Cowboy culture visit Dallas Cowboys at C26, D23, and E13. There's also a Dallas Cowboys for Her collection at D10.
But that's not enough! There are plenty of popular options available at DFW that cater to every taste and interest.
Shopping is one of the best things to do in DFW airport, and some of the best options include-
| Outlet | Location | Shop For |
| --- | --- | --- |
| Geppetto's Toys | A1 | Games, dolls, puzzles, and souvenirs |
| Brookstone | D20 | Electronics, massage chairs, travel pillows |
| Brighton Jewelry & Accessories | A17 and A37 | Bracelets, necklaces, handbags, and more |
| Sound Balance | A11 | Headphones, speakers, and audio accessories |
| Brooks Brothers | D26, E16, and C14 | Attire, classic accessories, and refined fashion essentials |
Dining Experiences
As your taste buds desire for a quintessential experience, the culinary scene at DFW can actually raise the bar, thus providing an array of dining options. Simply maximize your long layover in Dallas by relishing what lies beyond the regular one's like Auntie Anne's Pretzels, Chili's Too, and Starbucks.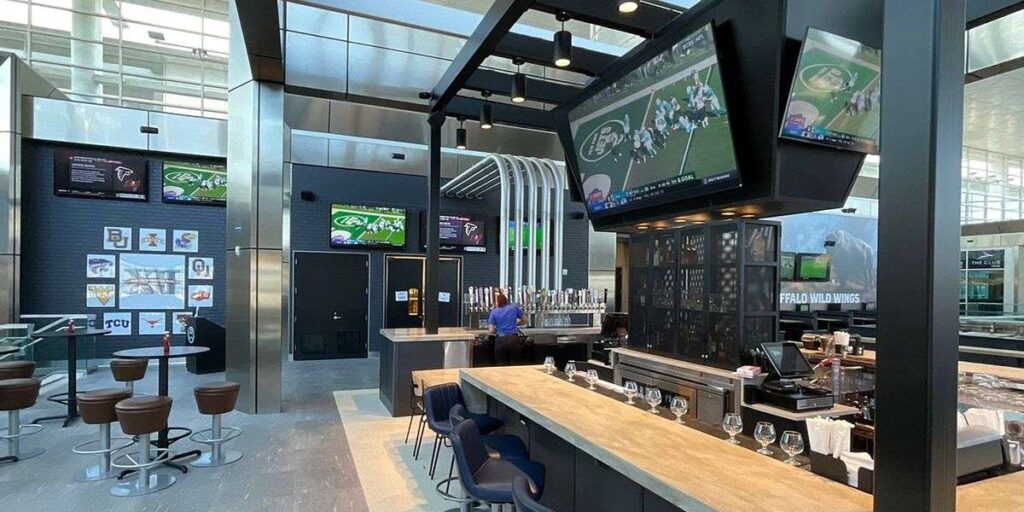 Indulge into the following culinary options for a delectable dining experience –
Cereality at C6
IceBox Café at A14
Ling & Louie's at A13
Vino Volo at A17
Wild Bleu Martini Bar at A9
Whether you're looking for a quick snack, a big meal, or a leisurely dining experience, this is one of the most convenient things to do at Dallas airport guarantees to satisfy your appetite, thus turning your short layover in Dallas into a memorable voyage.
Turn your layover into a Wellness Retreat
One of the best things to do at DFW airport is transform your tedious layover into a rejuvenating wellness retreat. Taking time for self-care on your pitstop not only alleviates your stress but also heals your jet-lagged soul. Here how you can indulge in wellness at DFW:
Visit the Xpress Spa at Terminal A near Gate 14. Here you can enjoy a relaxing massage that can rekindle your senses.
Also nearby, between Terminals B and D, is a free, open-access yoga studio.
Take a leisurely stroll through the terminals, observe the aircraft views, admire the architectural wonders, and enjoy the architectural wonders that lights up DFW Airport.
Unwind at the Airport Lounges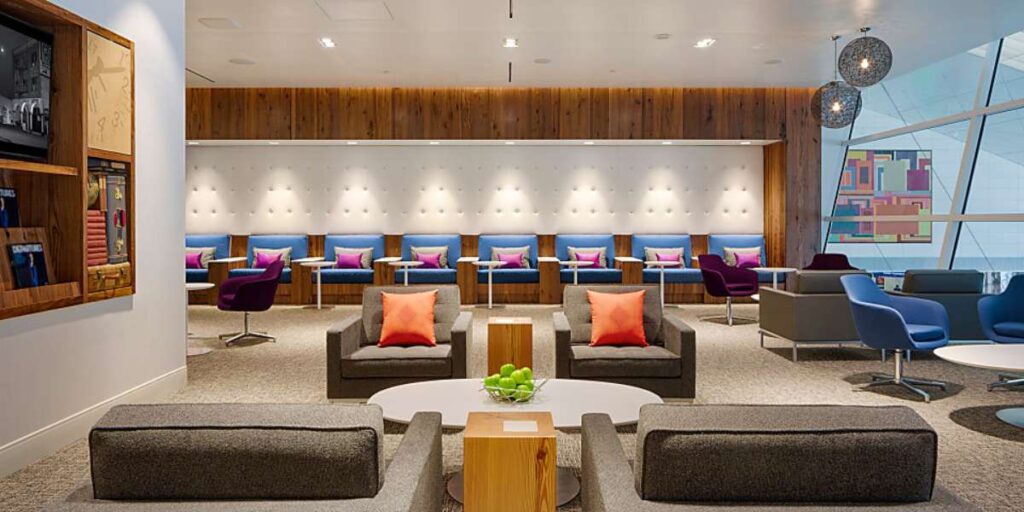 A long layover in Dallas-Fort Worth (DFW) can be seen as a blessing in disguise, thanks to its premium lounges. Relaxing in one of the lounges mentioned is amongst the perfect things to do on layover in Dallas airport. Selected lounges offer complimentary access if you have no more than 3 hour layover in Dallas airport.
Visit the Centurion Lounge Near Terminal D's Gate 14 to enjoy a range of amenities including complimentary meals, showers, and Wi-Fi access. It offers a complimentary visit to the American Express card holders.
The Korean Air Lounge, Lufthansa Lounge, QANTAS Business Lounge, and British Airways Lounge are other great places to unwind. They are all open everyday. You can check the timings here. Please note some lounges require a same-day flight ticket for complimentary access.
You can also switch to one of the paid ones, that requires no frequent flyers memberships. The Club at DFW near D21 offers complimentary meals and beverages, sleeping pods, and showers for a fee of 35 USD at the door.
For instance, passengers of Qatar Airways may visit its namesake lounge at Qatar Airways Dallas Fort Worth Airport Terminal that offers complimentary meals, priority boarding and auto check-in for their flight. You can expect a similar experience and comfort at the Qatar Airways DFW Terminal.
NOTE – This is not a comprehensive list. Visit the DFW official website to know more.
Discover the Downtown Dallas from DFW Airport
Within 20 miles south lies the vibrant metropolitan area embedded with a rich cultural scene and plethora of fun activities. Here you can visit popular landmarks like the Sixth Floor Museum, the Dallas Museum of Art, the Fort Worth Stockyards, or the Dallas World Aquarium. You can also browse the unique boutiques or try Tex-Mex cuisine at one of the local eateries. You can explore all of this on your 5 hour layover in Dallas. This is one of the best things to do near DFW Airport one can ever experience. So if you're on a long layover at Dallas Airport, you must visit to discover the Downtown.
Here's how you can reach here –
Catch the DART Rail Orange Line, conveniently located at Terminal A.
DART Bus Route 408: Go for a 5 USD day pass that gives you unlimited access to the DART Rail and DART buses.
Grab the car rentals options at the lower level of Terminal A.
Must-see attractions –
Discover the fascinating history at the Sixth Floor Museum, or immerse yourself in the burgeoning arts scene at the Dallas Arts District. If you're in for panoramic views, explore the hip Deep Ellum neighborhood.
Explore the Charming Old Neighborhoods
Passengers who are fortunate enough to have at least an 8 hour layover in Dallas Fort Worth Airport (DFW), can soak into the city's captivating old neighborhoods. Here's a glimpse of what you can expect:
Deep Ellum – One of the most popular things to do near Dallas airport where you soak into the rich cultural heritage where you can adorn captivating murals, eclectic shops, live music, and array of roof-top eateries.
Bishop Arts District – If you're in to experience the character and charm, head to the Bishop Arts District. Experience French boutiques, art galleries, and specialty stores that adorn the streets. You can also embark on culinary experience at one of many michelin-rated acclaimed restaurants.
West End Historic District – Take a trip down memory lane at the West End Historic District where cobblestone streets and heritage buildings sum up your experience.
Trinity Groves – History and modernity thrives together at Trinity Groves, a lively neighborhood nestled alongside the serene Trinity River. Savor global cuisines or simply take a leisurely stroll along the picturesque riverfront to breathe the Dallas skyline.
Uncover Hidden Gems at Dallas
If you have a layover of at least 24 hours, there's a universe of adventures outside the airport's walls, and plethora of things to do near Dallas Texas.
Food lovers must visit Klyde Warren Park. The 5.2-acre public park features a variety of food trucks. Besides, you can also go for rejuvenation with Zumba, Yoga, and Tai Chi classes.
You can also consider visiting iconic attractions like the Dallas Arboretum and Botanical Garden, the George W. Bush Presidential Library & Museum, or the Dallas World Aquarium.
Keep in mind that the aforementioned landmarks are not in close proximity, and may require you to rent a car.
Choose from a variety of hotels if you have an overnight layover at Dallas Airport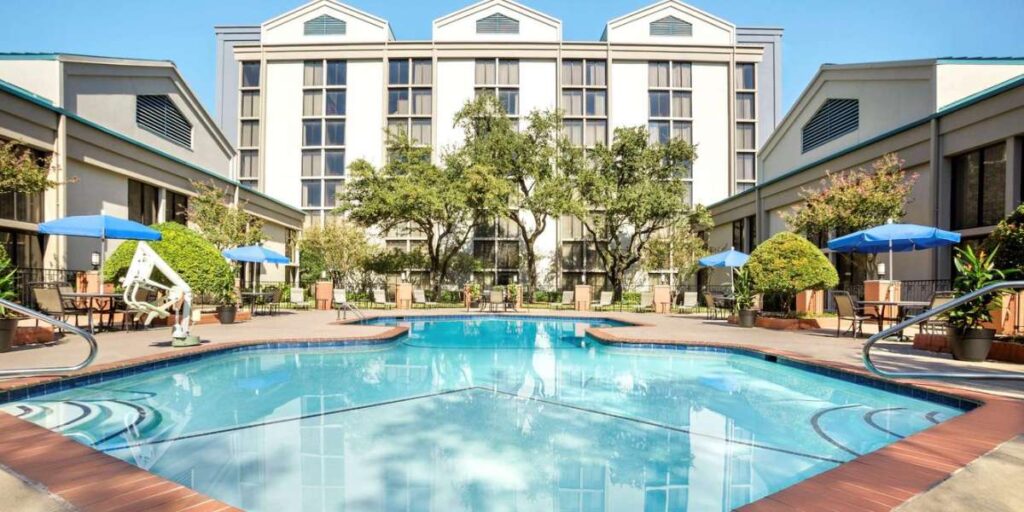 For passengers with an overnight layover, you can choose from the range of hotel options available near Dallas-Fort Worth Airport and in downtown Dallas. It you are exhausted enough, definitively this would be the most relaxing things to do near dfw airport –
| Hotel | Location |
| --- | --- |
| Hyatt Regency DFW | Next to Terminal C |
| Grand Hyatt DFW | Inside Terminal D |
| Hyatt Regency Dallas | Downtown Dallas |
| Homewood Suites by Hilton | Downtown Dallas |
| Hilton Garden Inn Dallas/Market Center | Downtown Dallas |
| Hampton Inn & Suites Dallas Market Center | Downtown Dallas |
| Sheraton Dallas | Downtown Dallas |
| Sheraton Suites Market Center Dallas | Downtown Dallas |
Unveiling the Aviation Legacy at Founders Plaza
Just north of the airport lies the illustrious Founders Plaza which serves as a glimpse into the airport's rich heritage. The captivating exhibit chronicles the milestones that shaped the airport's history. You can also treat your eyes to a panoramic view of the runways, where you can witness airplanes taking off and touching down.
DFW is beyond a layover brimming with exciting activities where every dull becomes an opportunity to immerse yourself into a myriad of enriching experiences. There are different amazing things to do in DFW Airport you can experience during your layover in Dallas. This bustling airport exposes a tapestry of joys, ensuring that your pitstop is laced with special memories.
How ContactForSupport Can Help?
When it comes to seeking reliable support, ContactForSupport emerges as your trusted ally. With a team of dedicated professionals, and a user-friendly platform, ContactForSupport is your go-to platform for all travel related assistance. Navigating the complexities of an airport terminal or encountering issues with your flight booking can be frustrating, that is where we come into the picture to simplify your journey and make it covenant and hassle-free at every step.
Read our latest blog here: Things to do on a layover at Miami International Airport
Frequently Asked Questions
Does Dallas airport have sleeping pods?
Dallas airport does not currently offer sleeping pods.
What to do in Dallas Airport?
Indulge in shopping at the numerous retail outlets, relish on a meal at one of many dining establishments, or simply browse the art installation that you pass by.
What to do at DFW Airport?
Apart from shopping and dining, there are lounges where you can find comfortable amenities and facilities that grace your layover.
What to see in Dallas in one day?
If you have just one day in Dallas, make sure to visit popular attractions like the Dallas Museum of Art, the Sixth Floor Museum, and the Dallas Arboretum and Botanical Garden.
How long of a layover do I need in Dallas?
A layover of at least 2-3 hours is recommended to comfortably navigate the airport.
Is 40 minutes enough time for a layover in Dallas?
A 40-minute layover in Dallas can be quite tight, considering the size of the airport and crowd during peak rush.
What to do in Dallas layover?
It depends on how long your pitstop is. If you have 2-3 hours, consider navigating the terminal. If you have more time available, you can also consider venturing nearby attractions or landmarks.
What to do with a long layover in Dallas?
 Immerse yourself in the city's delectable culinary scene or simply enjoy a leisurely stroll through its picturesque neighborhoods.
What to do for 5 hours in the Dallas Airport?
Besides shopping and dining, you can avail free WiFi to catch up on work or stay connected with loved ones.
Can I leave Dallas Airport during layover?
Yes, but make sure you have sufficient time and meet the entry requirements for the United States.
Is Dallas Airport walkable?
The airport is quite large but there are certain areas within the terminals that are walkable.
Can you layover in Dallas Fort Worth for one hour?
It could be quite challenging considering the size and layout of the airport.