Passing time during a long layover is sometimes a boring task. You can either just sit at one place while waiting for your flight or explore other places to enjoy. The choice depends on your interest and hobbies. If you are stuck on a layover at Orlando International Airport then, it can be easy to pass your time as there are so many things to do at Orlando Airport. So, do not waste your time waiting for the next flight. Instead take an inside or outside tour to explore the availability of different interesting things to do near Orlando Airport.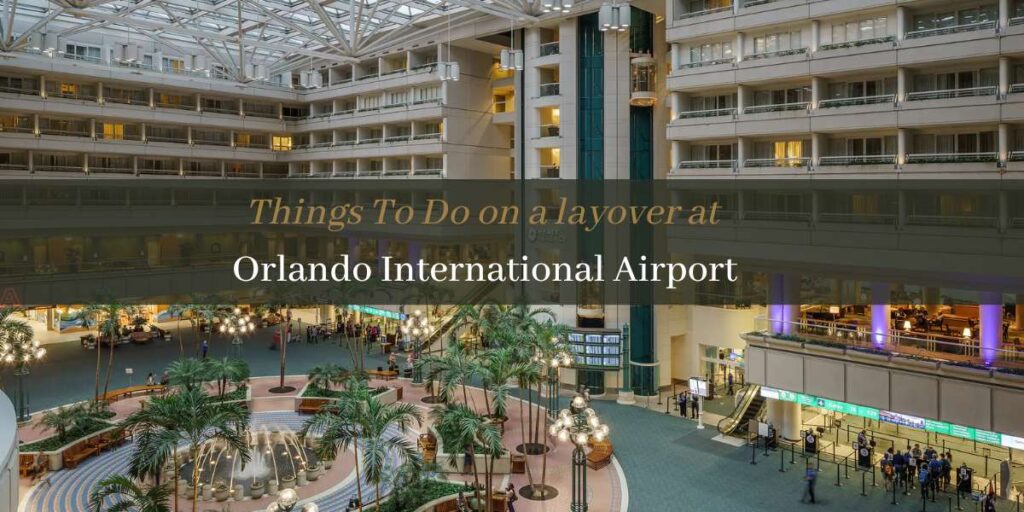 In this blog, you will know about various things you can explore inside, near or around the Orlando International Airport. So, let's dive right in & don't skip reading till the end!
Exploring the Inner Orlando International Airport
In the Orlando Downtown area, USA, MCO Airport is one of the busiest airports. Considering the rank, it comes up with the 7th number on the list. When it comes to overcoming your long layover in Orlando airport, many shops, eateries, and lounges are there to enjoy the meal and feel relaxed in your own seating. You will get to know about the many options if you are inside the Orlando International Airport.
Grab a Seat at Luxurious Airport Lounges
Many travelers love to take some rest during their layover time. Orlando Airport has a better option to welcome in the lounges also known as clubs. Inside, the relaxing facilities are given where you can sit properly and do your pending online work. You can order your favorite drink and enjoy every sip while completing your work. These are the best things to do in Orlando Airport to reduce tiredness and stress during Long layovers.
A list of available lounges inside the Orlando Airport is given for easy reach without wasting your time.
Lounges Inside the Airport
Lounges
Terminal Location
Gate Number
American Airlines Admirals
Terminal B
Gate No. 55
Delta Sky Club
Terminal B
Gate No. 71
United Club
Terminal B
Gate No. 43
USO Lounge
Terminal A
Level 1

The Club MCO
Terminal A
Gate No. 1 – 29, near XpresSpa
Terminal B
Gate No. 91
Plaza Premium Lounge
Terminal C
Level 2
Enjoy the meal at Restaurants and Cafes
With the aim of offering the best meal to the customers, different types of eateries, restaurants, and cafes can be found inside. The taste is so delicious to calm your hunger. Some are provided the great outside views including the runway view in one of the amazing. Visiting the airport and stepping into the restaurants is one of the great Orlando Airport things to do.
Hemisphere Restaurant
The Hyatt Restaurant Hemisphere provides a great view of airport runways just outside the glass wall. People usually love to visit by sitting on a chair and looking outside for a heartaken view. It is recognized as one of the attractive things to do at MCO Airport.
Food Chain Availability
Food Chain restaurants are also inside for their lovers such as Macaroni Grill. If you want to convert your layover period into an unforgettable time, just visit once inside the eateries at Orlando Airport.
Meals are served in professional ways at McDonald, Starbucks, Burger King, and many others. These food courts can also be seen at Spirit Airlines Orlando International Airport Terminal with the same services.
List of Restaurants and Cafes at Orlando Airport with their location
| Restaurants, Cafes, Eateries | Location | Opening Hours |
| --- | --- | --- |
| Burger King | Airside 4 | 5:00 AM to 12:00 AM |
| Chick Fil A | Terminal A – B | 6:30 AM to 8:00 PM |
| Chipotle Mexican Grill | Airside 2 | 8:00 AM to 10:00 PM |
| Dunkin' Donuts | Terminal A – B | 5:00 AM to 10:00 PM |
| Macaroni Grill | Terminal A – B | 11:00 AM to 10:00 PM |
| Mcdonalds | Terminal A – B | 5:30 AM to 10:00 PM |
| Starbucks | Terminal A – B | 6:00 AM to 10:00 PM |
| Hemisphere | Terminal A – B | 5:00 PM to 10:00 PM |
How to spend a 4 hour layover in Orlando City?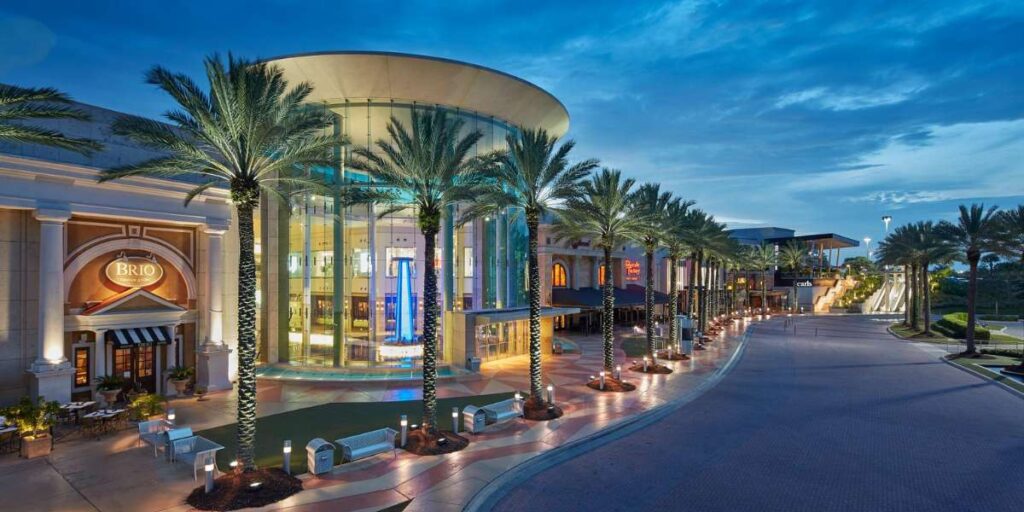 There are a lot of things to do around Orlando airport to solve your tired and fatigue situation. Having a long layover time when there is nothing to do, It's time to explore the city area.
It includes the Universal city walk, the largest Florida Shopping Mall, iFly Fun Places, and many more. These are the best activities to spend your 4 hour layover in Orlando city. You will never worry about the layover time while enjoying particular things.
Florida Mall
The mall is situated at 14 minutes' distance from the Orlando International Airport. Grabbing a taxi from the airport will be a better option. Entry to the mall is absolutely free. So, money is not going to waste on entry fees.
Lots of retails and shops are available inside the mall. You can enjoy many things to do at Orlando Airport such as 1 hrs of shopping and walking to explore the mall. Foods are in large varieties that can also be found in this 1.8 million square feet Florida Mall.
DETAILS
Speciality – Largest Shopping Mall in Florida State, USA
Total Area – 1.8 Million Square
Entry Fee – No Cost, Absolutely Free
Distance from Airport – 15 Minutes (approx.)
Spending Time – 1 Hr
Skydiving at iFly Center
Another ample opportunity to utilize your Long Layover Orlando Airport time is to visit the iFly Center outside the airport. Here, you will experience how the skydiver feels when they jump from the sky. Age limits are defined by the staff.
Entry is chargeable for every person by offering amazing things to do near Orlando airport during layover time. Formalities such as check-in, and ticketing are about to be done. You can make some videos and take photographs while enjoying the air inside the Vertical tube.
DETAILS
Entry Fee – $70 Approx
Distance – 15 Minutes
Time to Spend – 1:30 Hrs (Including entry, check-in formalities)
Famous for – Experiencing flying in the air
Universal Citywalk
Family entertainment things to do near Orlando Airport during layover is the Universal Citywalk. It is particularly famous for the name "The Epicenter of Awesome". Gaming areas, Shopping stores, museums, entertainment, and dining options are the main attractions.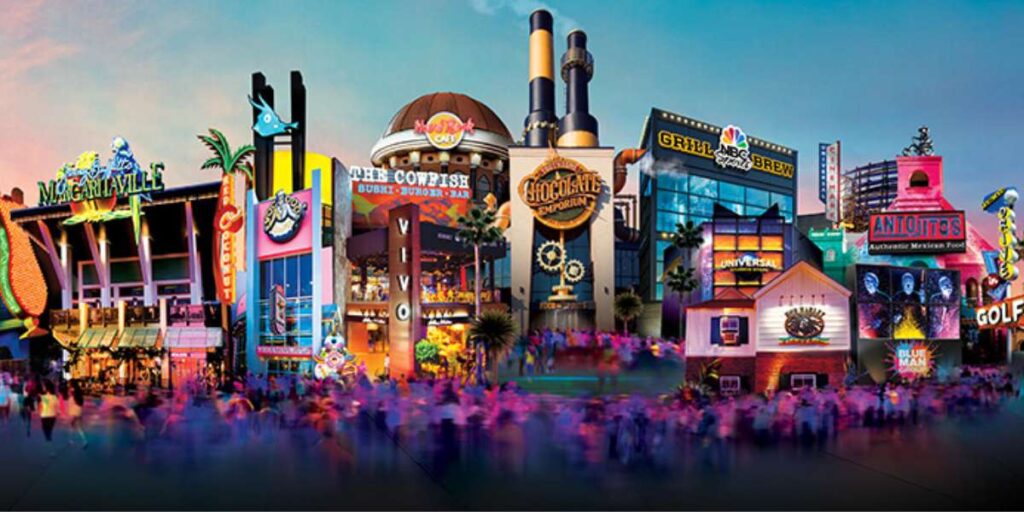 The Escape game is one of the best outsides of Orlando Airport Layover Activities. You can get some drinks, and food to watch a movie in this area. By doing all these, it is easy to kill your boring layover time.
Activities to Pass the Orlando Airport Overnight Layover
Airports work 24×7. Yet, the flights operated in the mid-hours too. Sometimes, the flight got delayed due to a list of described reasons. Instead of killing time waiting for flying to take off, the best choice is to find out the best Orlando Airport Layover activities to do inside the airport.
Things to do at Orlando Airport are given for your best choice to get relaxed during your layover time.
Get Relaxed at the Rest Zones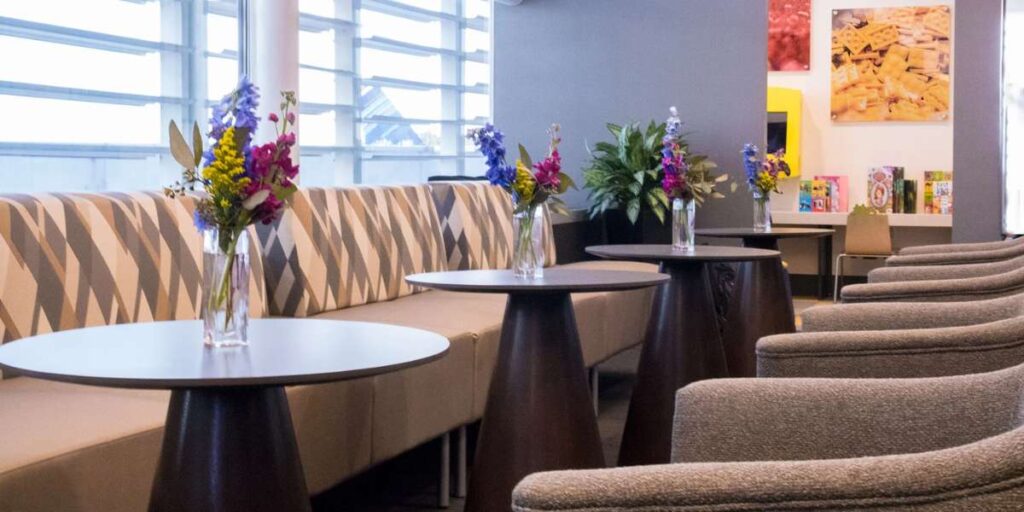 It is the duty of every airport to provide a safe area for night passengers. Therefore, rest zones are created keeping in mind safety and security considering Orlando Airport overnight layover. In the case of a flight delay and cancellation, flight passengers can visit the rest zone and feel relaxed until the flight is ready to take off.
Sleeping Area
Anyone can feel tired at the end of the day, especially waiting for a flight inside the airport. The sleeping areas are provided near the terminal areas where check-in processes are completed. Warm Clothes, blankets, and sleeping bags are given to passengers by the staff of the airport.
If you are a passenger of another airline such as Frontier Airlines, the same facility will be provided as a compulsory one. At the Frontier Airlines Orlando Airport Terminal, you can find the same during night hours.
Shower Facilities
In the midnight hours, if a passenger desires to take a shower, then he can go to the lounge area and get the same. Lounges are the large space area which fulfill every needed desire of the passengers.
Hotel Hyatt Regency
Passengers do not like to live inside the airport area during overnight layovers. They seek to go outside and relax in a separate room. Considering this, Hotel Hyatt Regency services are provided by the Orlando Airport. In the hotel, passengers can go and get related.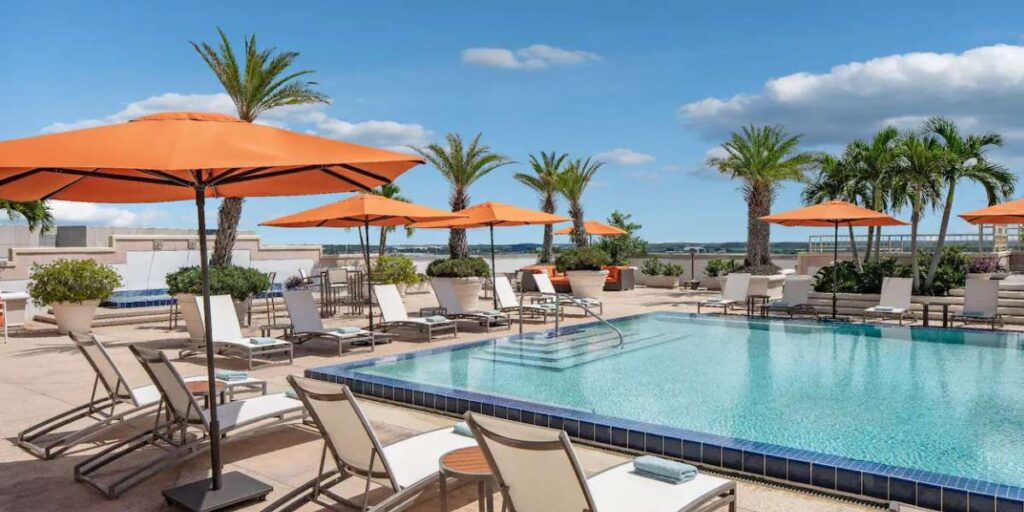 The facility to reach the hotel is offered by the Orlando Airport free of cost. Being the duty of the airport and owned hotel, all the facilities are provided to the passengers as per their needs.
In closure, the Orlando International Airport provides you with all the needed facilities which can help to pass your layover time. For a long layover Orlando Airport time utilization, it is allowed to visit outside and grab some other opportunities instead of waiting inside the airport.
Who Are We?
ContactForSupport is your loyal ally when looking for trustworthy support. It is your go-to site for any travel-related support. Thanks to a staff of committed professionals and an intuitive interface. It can be frustrating to navigate an airport terminal's intricacies or run into problems with your airline reservation. That's where we come in to simplify your experience and make it comfortable and hassle-free at every turn.
Frequently Asked Questions
What to do at Orlando Airport?
A lot of things are there to do at Orlando Airport such as exploring the airport, visiting the luxurious lounges, and having your favorite meal, etc.
What to do near Orlando Airport?
You can visit Florida Mall, have fun at the iFly center, and go for a Universal Citywalk to enjoy your best time near Orlando Airport.
What to do around Orlando Airport?
The best things to do around Orlando Airport are to visit the Hyatt Regency Hotel. It is owned by the Orlando Airport, taking care of the need and special facilities for Passengers.
How early to get to Orlando Airport?
At least 3 hours before your flight departure. This is the most recommended time to reach early for completing all the needed formalities related to flight.
What to do in Orlando during layover?
You can witness the top attractions situated in Orlando City. Capturing photos and making videos are the best things to do in Orlando Airport outside during layover time.
What to do in Orlando for 6 hours?
During 6 hours of layover time, there are many things to do at MCO airport such as relax in the Rest Zone, Take a Shower, sleep for hours inside the Airport Lounge, explore the Florida mall, and do shopping.
How to navigate Orlando Airport?
Knowing all the information about the terminals and gates helps you to navigate Orlando Airport. Otherwise, you can surf the official website to get all the needed information.
Is there a Chick-fil-A in the Orlando Airport?
Yes, there is a Chick-fil-A food chain inside the Orlando Airport. It serves a chicken sandwich with some special salad and nuggets.
How long does it take to get to Orlando Florida?
It depends on which mode of transport you are choosing to get to Orlando Florida. If you are in Florida and want to visit Orlando city then 10 to 15 minutes are enough by plane.
How much is Uber from Orlando Airport to Seaworld?
Almost 7 to 8 minutes, if you take the Uber cab to visit SeaWorld from Orlando Airport then this is the least recommended time.