Los Angeles International Airport (LAX) is one of the busiest airports in the world, with millions of passengers passing through its gates each year. For many of them, latency in flights or early morning flights can mean hours of uncomfortable waiting. But what if there was a way to get some rest at the airport?
That's where sleep pods come in. Sleep pods are becoming increasingly popular at airports around the world, providing a convenient and affordable way for travelers to catch some sleep during a layover or a delayed flight.
So, does LAX have sleeping pods? The answer is no, LAX Sleep pods are not in existence yet. In 2019, LAX announced that it was considering installing sleep pods in Terminals 4 and 5. However, no plans have been ratified yet. While in the meantime, we hope this article will help you find a comfortable place to sleep at LAX!!!
What is a sleep pod?
A sleep pod is a small, private space where the passengers can sleep, relax, or work. The pods typically have a comfortable bed, a reading light, and a privacy curtain. Some sleep pods also have amenities such as Wi-Fi, power outlets, and air conditioning.
The cost of using these pods depends on the location and the amenities offered. In general, these are more affordable than hotels or airport lounges.
Sleep Pods Benefits
Privacy: They offer a private and quiet space where the passengers can relax and escape the hustle and bustle of the airport.
Convenience: The sleep pods are often located in convenient locations, such as near gates or security checkpoints.
Affordability: These pods are relatively affordable, especially compared to hotels or airport lounges.
Hygiene: The pods are usually cleaned and sanitized regularly, so travelers can be sure that they are getting a clean and comfortable sleep.
Does LAX have sleep pods?
The question is prominent to be asked by the passengers who've to spend some time at the airport because of latency in flights or any reason: Are there any sleeping pods at LAX?
So, LAX does not currently have sleep pods, but there have been discussions about installing them in the future. Some people believe that LAX sleep pods would be a valuable addition to the airport, as they would provide a much-needed place for travelers to rest and recharge. Others are concerned about the cost of installing and maintaining sleep pods, as well as the potential for security concerns.
Only time will tell if LAX will ever install sleep pods. However, if they do, they are sure to be a popular amenity for travelers.
Are there some alternatives to sleeping at LAX?
Despite not providing LAX Sleep Pods, the airport provides various spots for its passengers to have some relaxation. Have a look:
Airport lounges: Airport lounges offer a private and comfortable place to sleep. They often have reclining chairs, blankets, and pillows. Some lounges also have showers, so you can freshen up before your flight.
Public areas: You can find a few public areas at LAX where you can sleep. However, these areas are not always comfortable or safe and if you select this option, be sure to be respectful of other passengers and follow the airport's rules and regulations regarding it.
Hotels near the airport: There are many hotels near LAX that provide airport shuttles. This is a convenient option if you are neither interested in exploring the things to do at LAX Airport on a long layover nor in spending the night after arriving late there.
Rest zones: LAX has a few designated rest zones located throughout the airport. These areas are typically quiet and offer a place to sit or lie down.
For more specific information, you can visit here.
NOTE: There aren't any designated rest spots at the airport.
Sleeping Areas at the LAX Airport
Given below are the areas at LAX where you can rest while you wait for your flight, despite the absence of LAX Sleeping pods:
| Location | Sleeping Arrangement |
| --- | --- |
| Terminal 1 | At Terminal 1, you can get a long couch to sleep on. |
| Terminal 3 | In the Baggage claim area, you can find some wooden benches. |
| Terminal 4 | In this terminal, several chairs are set up in a triangular configuration. |
| Terminal 6 | It has armrest-free benches. |
| Terminal 6, Gate 4B | It renders you the proper privacy so you can utilize it to sleep. |
| Terminal 7 | Here, as well, the triangular configuration of chairs can be seen. |
| Terminal 7, Gates 70s-80s | You can get the benches here as well to rest, but they may not be much relaxing. |
| Connector Hallway, amidst Terminal 6&7 | It is a quiet place to relax at the airport. |
| International Terminal, Gate 148 | It can be accessed behind the Starbucks & possess comfortable couches. |
| VIP Lounges | You can get VIP Lounges at the International Terminal. Here, you may find more privacy, sleeping options, and services here. |
NOTE: You will find it colder there due to the continuous usage of air conditioning and the weather, hence don't forget to have your blanket or even a sleeping bag.
Are there any hotels near LAX Airport to sleep & relax?
Although you can relax at the airport itself, it can be full of noise & disturbance which can even make you more irritated. It may become more when you come to know the lack of LAX Sleep Pods. Hence, the best suitable option for you is to opt for a hotel. It may cost you between $100-$200. Have a look at the list of various hotels near LAX:
| Hotel | Rating | Distance From Airport |
| --- | --- | --- |
| Hilton Los Angeles Airport | 4-Star | 2.5 km |
| Ramada by Wyndham Hawthorne/LA Stadium | 3-Star | 4.6 km |
| Hyatt Regency Los Angeles International Airport | 4-Star | 1.3 km |
| Sheraton Gateway Los Angeles Hotel | 4-Star | 1.7 km |
| Four Points by Sheraton Los Angeles International Airport | 3-Star | 2.3 km |
| The Westin Los Angeles Airport | 4-Star | 3.3 km |
| Los Angeles Airport Marriott | 4-Star | 2.3 km |
| Sonesta Los Angeles Airport LAX | 4-Star | 5.9 km |
NOTE: You can also find many more options that suit your needs and budget.
What are the limitations of Sleeping at LAX?
Lack of privacy: Many of the sleeping areas at LAX are not private, so you may feel exposed or uncomfortable.
Noise levels: LAX Airport is a busy place, so there is often noise from people, announcements, and airplanes. This can make it challenging to get a good sleep.
Security concerns: Due to the absence of LAX Sleep Pods, there have been some reports of theft and other crimes in the airport as people rest in the public area, so it is essential to know about your surroundings and plan to minimize hazards.
Rules and regulations: The airport has rules and regulations about sleeping in public areas. You could be asked to move if you are found sleeping in an unauthorized area.
What will be the most convenient location to install LAX sleep pods?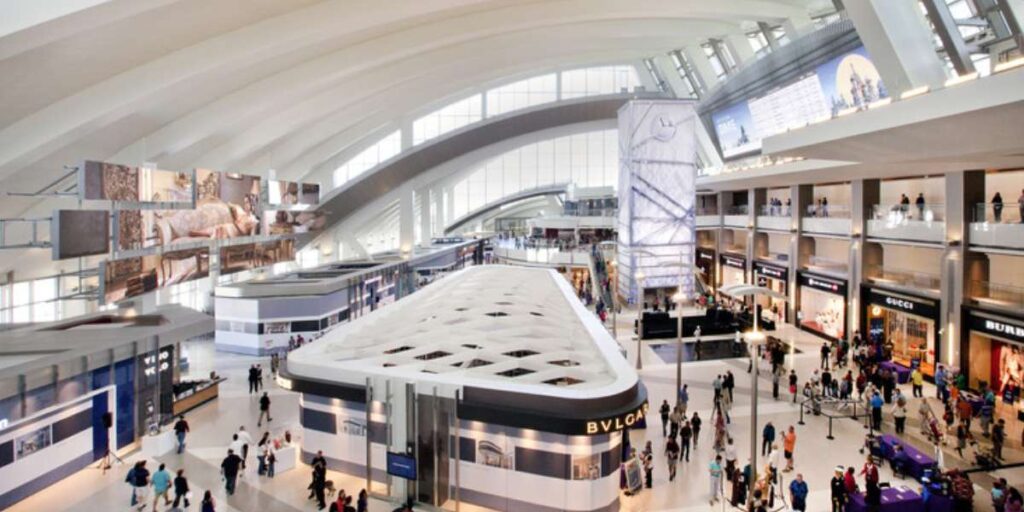 If any terminal does install the sleeping pods at LAX, they are likely to be located in the following areas:
At TBIT: The Tom Bradley International Terminal is the largest terminal at LAX, and it is also the most modern. This makes it a likely location for LAX sleeping pods, as it would be able to accommodate a large number of passengers.
Central Terminal Area (CTA): The CTA is the older part of LAX, but it is still a major hub for domestic flights. This makes it another likely location for installing the pods.
Arrivals Hall: These halls are where travelers arrive after their flights. This makes it a convenient location for LAX sleeping pods, as the passengers could use them before they head to their hotels or other destinations.
What are the reasons for not installing LAX Airport sleep pods?
There are a few reasons why LAX airport sleeping pods have not yet been installed. These reasons include:
Cost: Sleep pods LAX can be expensive to install and maintain. The cost of the pods themselves can range from a few thousand dollars to several thousand dollars. The cost of installation and maintenance can also be significant.
Noise level: Sleeping pods at LAX can be noisy, especially when people are snoring or talking. This could be a problem for other passengers who are trying to sleep in the pods or in the surrounding areas.
Privacy: Sleep pods are not always private. Some pods have thin walls or curtains that do not provide a lot of privacy. This could be a problem for passengers who are concerned about their privacy.
Safety: There have been concerns about the safety of sleep pods. Some people worry that sleep pods could be used for criminal activity, such as drug use or prostitution.
Demand: There is no guarantee that there would be enough demand for sleep pods at LAX Airport. The airport is already very crowded, and it is not clear how many people would be willing to pay to sleep in a pod.
Despite these concerns, there are also some reasons why LAX might consider installing sleep pods in the future. These reasons include:
Customer satisfaction: Sleep pods could help to improve the customer experience at LAX. Travelers who are able to get some rest at the airport are less likely to be tired and cranky, which could lead to a more pleasant travel experience for everyone.
Attracting business travelers: Business people are often willing to pay for convenience, and sleep pods could be a convenient way for them to get some rest at the airport.
Competition: Other airports nearby have already installed sleep pods. LAX may feel pressure to install sleep pods in order to remain competitive.
What are some things to consider before using the sleeping pods LAX after installation?
Here are some other things to consider when deciding whether or not to use LAX sleep pods:
Your personal comfort level: If you are claustrophobic or have trouble sleeping in small spaces, then sleeping pods at LAX Airport may not be the best option for you.
Your budget: They can be a bit pricey, so if you are on a tight budget, then consider other options, such as sleeping in a lounge or renting a day room at a nearby hotel.
Your travel plans: If you have a long layover or are arriving at the airport late at night, then sleeping pods in LAX can be a great way to get some rest. However, if you are only at the airport for a short time, then sleep pods may not be worth the cost.
Ultimately, the decision of whether or not to use LAX sleeping pods is a personal one. Evaluate the pros and cons and decide what is right for you.
Conclusion
Whether or not LAX has sleep pods is still up in the air. However, there are a few other options available for travelers who are looking for a place to rest at the airport. If you're looking for a place to sleep at LAX, your best bet is to either pay for access to an airport lounge or find a quiet spot to curl up on a bench or couch. Unfortunately, there are no sleeping pods at LAX yet, but hopefully, that will change in the future & certainly, you can access the LAX Sleep pods.
So, in case you are planning to fly from LAX, be sure to do your research and find the best option for you.
Who Are We?
ContactForSupport, offers a simple and effective solution for finding sleeping pods at LAX Airport. With our user-friendly interface, weary travelers can easily access ContactForSupport on their smartphones or call us anytime to locate detailed information about the exact whereabouts of these restful spaces.
We eliminate the need for aimless wandering and provide a convenient way to navigate through the bustling airport. With ContactForSupport, passengers can swiftly discover the peaceful haven they seek, ensuring a comfortable and rejuvenating experience amidst the bustling environment of LAX Airport.
Frequently Asked Questions
Does LAX have sleeping pods?
No, Los Angeles International Airport (LAX) doesn't have sleeping pods. If you want to relax at LAX while waiting for your flight, you may access the lounge, have a hotel booked nearby if you have a long layover or you may rest at your own seat.
Can you sleep inside LAX?
Yes, you can sleep inside the airport as there are several options viz lounges & public areas present there.
Is there a place to rest in LAX?
You can get rest at Los Angeles International Airport by using the public areas containing armrest benches or couches or getting lounge access.
How do you spend the night at LAX Airport?
The night can be spent at Los Angeles International Airport: exploring things, sleeping in the public areas, or accessing the amenities of the lounge.