The world of air travel has paved its way to the greatest heights in terms of technology. Wi-Fi on flights has become one of the main highlights for many airlines, including Delta. Its Wi-Fi distribution network has gained momentum since February 2023 and popularity for its unparalleled onboard entertainment. Whether you are on a business trip or need something in your leisure time, Delta's free inflight Wi-Fi service saves the day from boredom.
In this article, we have covered Delta Air's board Wi-Fi connection, its coverage, and other aspects you can benefit from on your next itinerary.
How does Delta inflight Wi-Fi work – Eligibility, Aircrafts covered, & More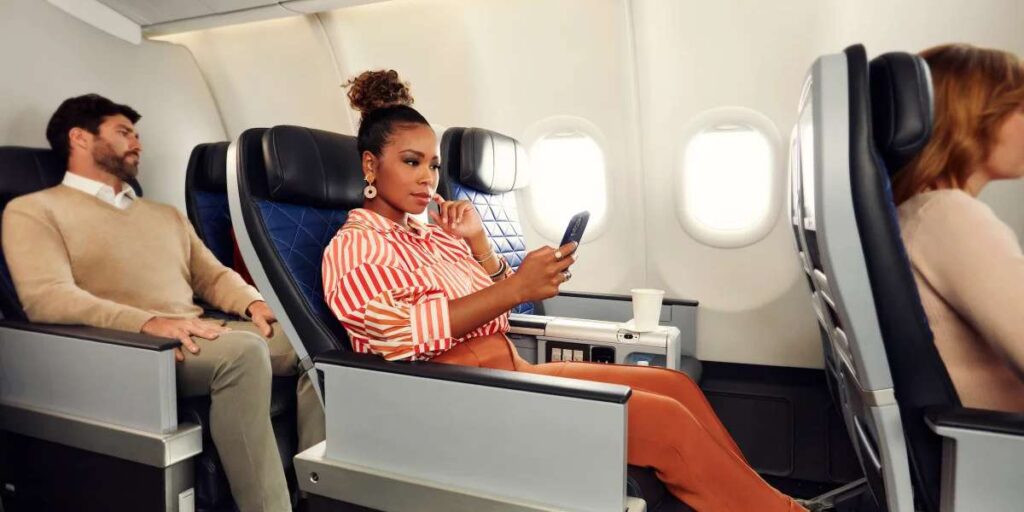 The Delta Airlines free Wi-Fi service connects passengers to a reliable and secure internet connection and provides entertainment choices via online streaming platforms, music, and more. It also helps allow them to stay updated with the latest news, and world events, and stay connected with their loved ones via messaging apps, video calls, etc.
To use the inflight wi-fi service, take into account the following key details.
Eligibility Criteria for Fliers
As per the latest updates, the airline has extended its free Wi-Fi Delta facility on the majority of its domestic and international flights. To be eligible for the service –
You must be a SkyMiles member, irrespective of whether you have an Elite status on your Delta profile.
You can join SkyMiles via the Delta website for free.
There is no need to have credit points or reward points to access Delta's free Wi-Fi, use your SkyMiles login details once you board the flight.
Flights Covered
Delta inflight Wi-Fi is available on most flights and is scheduled to cover all of the flights by the end of the year 2024.
Here is an overview of the coverage in domestic and international flights-
Flight Type
Details


Domestic US Flights
Wi-Fi service is available between takeoff and landing on eligible US flights.
You can connect multiple devices at once to stream, shop, browse, etc.
International and Regional Flights
Available on flights handled by Delta connection aircraft. You must purchase a Wi-Fi pass to access the Wi-Fi connection after take-off Free messaging is available for free with WhatsApp, Messenger, iMessage, and Facebook
Delta Free Wi-Fi Speed
Travelers can expect high internet speeds on Delta flights. On average, you can expect download speeds between 7 to 25 megabits per second, and upload speeds up to 1.3 Mbps.
One of the main reasons why Delta is the best airline in the US is due to its consistent dedication to offering the best inflight services to its passengers. Viasat is the primary inflight inflight provider and offers high-speed efficiency. Delta airline Wi-Fi connection has improved over the years and has developed into one of the most reliable, stable, and efficient internet connections.
Delta Wi-Fi service providers
Free Delta wifi is powered by companies like Wi-Fi Onboard (Primarily called Gogo) and Viasat. The internet service coverage can differ based on the aircraft and flight number you are flying from and the type of route. Wi-Fi Onboard and Viasat cover Wi-Fi service on over 250 routes and on more than 80% of Delta's aircraft.
Here is an overview of the aircraft numbers covered by the service providers and their contact details-
Internet Service Provider
Aircraft Covered
Contact Details
Viasat
319, 320, 321 (Selected flights), 737-900, 757-200D, 737-800, 220-300 (Selected aircrafts)
Website support: inflight.viasat.com
Phone number: (888) 649-6711
Wi-Fi Onboard
220-100, 319-100, 220-300 (Selected aircraft), 320-200, a330-200, a330-300, CRJ 700, CRJ 900, 757-300, ERJ 170, ERJ 175, 767-300, 330-900, a350-900, 717-200, 767-400
Website support: care.inflightinternet.com
Phone number: (877) 350-0038
Email: [email protected]
NOTE- If you have already purchased a subscription with one of the above companies or have a Wi-fi pass, your services will continue across the fleet.
Delta free Wi-Fi service for T-Mobile or Sprint membership travelers
Travelers with T-mobile, Magenta, or Sprint memberships with an active account can enjoy in-flight Wi-Fi connection even on flights not qualified or furnished with internet access. The following services are available for eligible passengers-
| Membership | Services provided |
| --- | --- |
| Sprint Max Plan, Magenta Max with T-Mobile | Free unlimited Wi-fi, TV, Games, streaming movies/series, texting |
| Sprint one and Magenta | One hour complimentary Wi-Fi per flight, Four full flight internet sessions per year, unlimited texting |
How to connect to Delta free Wifi?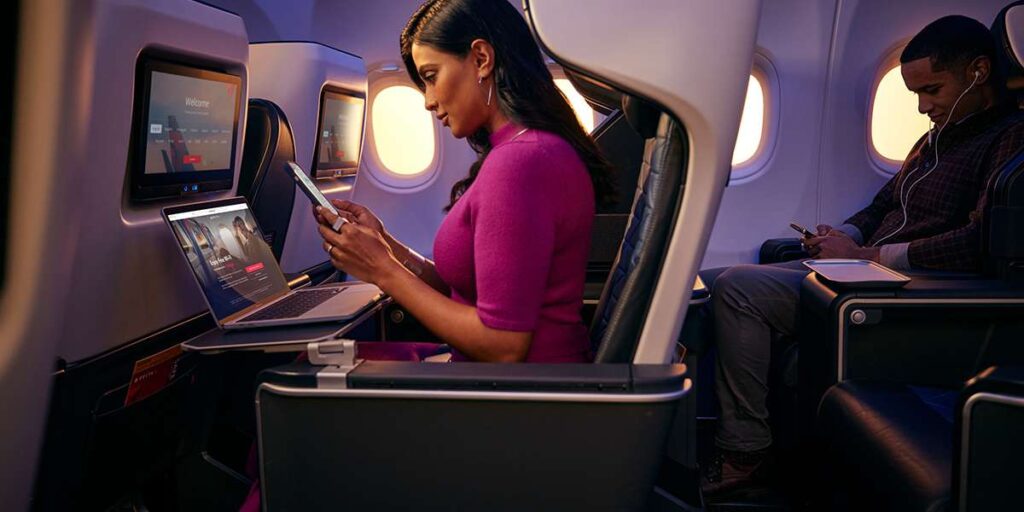 Once the boarding door closes, you can connect to Delta free Wi-Fi on board in a few simple steps as follows-
Open the device settings of your preferred device like mobile, tablet, or laptop.
Turn on Airplane mode on your device.
Turn on "Wi-fi" and select "DeltaWi-fi.com" in your device settings.
You will be automatically directed to the "Wi-fi sign-in" page. Enter the SkyMiles account number and password to activate Delta Inflight Wifi.
If you are not directed to the Wi-Fi sign-in page directly, visit DeltaWi-fi.com and follow the on-screen instructions to log in/sign up for SkyMiles to activate Wi-Fi.
If you do not remember your SkyMiles account password, you can also connect using your full name, email, and DOB.
NOTE: If you wish not to apply for a SkyMiles account or do not have a SkyMiles account, you can purchase Wi-Fi access for a fee.
Is free Delta Wi-Fi available on all flights?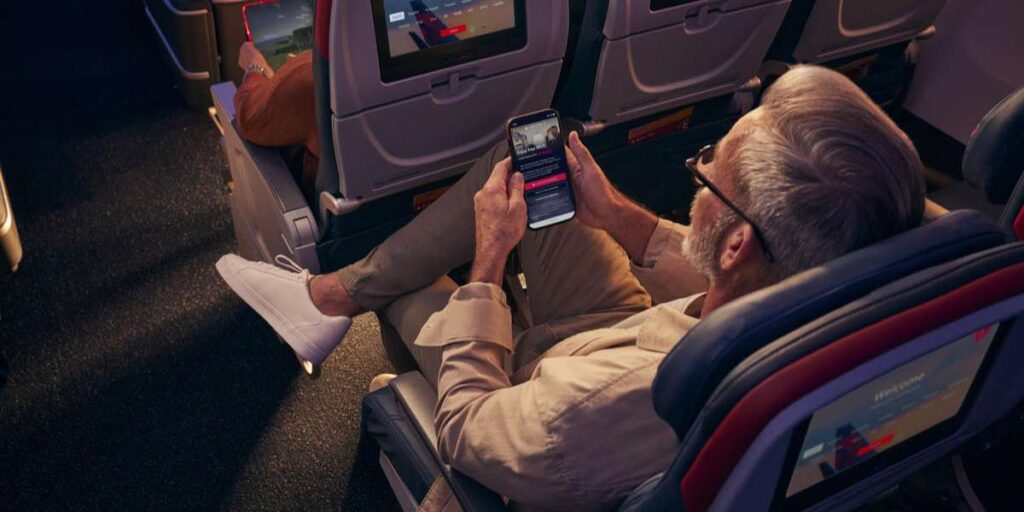 Delta, being among the top-rated airlines in the US, provides Wi-Fi on more than 700 domestic flights and various international flights. However, it may not be available on some flights.
If your flight does not offer a free Wi-Fi connection, you can opt for a Wi-Fi pass for flights within the US and globally. Fee will be applied for Delta's Wi-Fi pass as follows-
Short-term Wi-Fi pass charges
You can avail Wi-Fi access passes from "Viasat" and "Wi-Fi onboard" during your journey –
Viasat – 5 USD per flight (irrespective of duration and destination)
Wi-Fi Onboard– 7 USD per hour
Long term Wi-Fi pass charges
If you travel on Delta flights often, you can purchase monthly internet connection plans for a seamless experience on the flight and save money on long-haul flights. The two available monthly plans include-
Domestic Plan– 50 USD approx (includes all flights, including Mexico and Canada)
Global Plan– 70 USD approx (covers international routes)
PRO TIP– You can cancel the subscription anytime, if not in use.
How can US travelers benefit from Delta Wi-Fi Day Pass?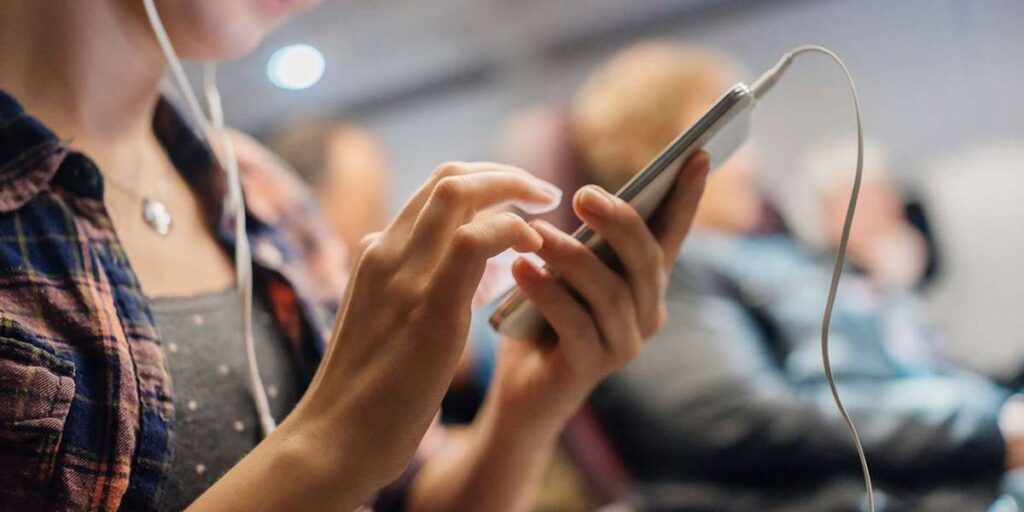 Delta Wi-Fi day pass offers uninterrupted internet connection across multiple domestic flights in a day for US and Alaska-based travelers. It is an excellent alternative to free inflight wifi for those without a SkyMiles account or traveling on flights not equipped with the connection yet.
The highlights for Delta WiFi day pass international/domestic routes are as follows-
Delta Wi-Fi pass is primarily available on Intelsat flights.
The Unlimited internet service is available within 48 US states and Alaska.
A Wi-Fi day pass is helpful for those travelers who have countless domestic flights lined up within 24 hours, especially for flights with long connections.
The pass costs 19 USD, lasts up to a year after purchase, and can be renewed for an additional fee.
So, concluding the above- In the world of evolving inflight connectivity and entertainment, Delta Airlines is dedicated to providing complimentary Wi-Fi services to its passengers and ensuring online connectivity 30,000 feet above ground without interruptions at all times.
Who Are We?
ContactForSupport is the ultimate online phone directory designed to assist Delta Airlines passengers during their journeys. For fliers seeking the convenience of free inflight WiFi services, ContactForSupport offers a streamlined way to access information.
With just a few taps, travelers can quickly find the necessary details about Delta's WiFi availability, login procedures, and troubleshooting tips. Say goodbye to the hassle and stay connected effortlessly with ContactForSupport, your travel companion for smooth and enjoyable flights.
Frequently Asked Questions
Does Delta have wifi?
Yes, Delta flights offer Wi-Fi services on the majority of domestic flights and some international and regional flights.
How much is wifi on Delta?
Passengers who do not wish to sign up for a SkyMiles account can pay for a Wi-Fi access pass for up to 7 USD per flight. 
How to connect to Delta wifi?
Turn on Airplane mode on your device settings and select "Deltawifi.com" from the available services to access the Wi-Fi.
Is Delta wifi free?
Yes, Delta wifi is free for SkyMiles passengers and those with T-Mobile and Sprint members.
How much is Delta wifi?
It costs up to 7 USD per hour for short-term wifi pass and up to 70 USD monthly for long-term wifi plans. 
Does Delta offer free wifi?
Yes, Delta offers free wifi to passengers with a SkyMiles account. 
How to get wifi on Delta flight? 
Login to your Skymiles account using your password or use your name, password, and email to access wifi on Deltawifi.com.
Does Delta have wifi on international flights?
Yes, Delta Airlines offers Wi-Fi connectivity on selected international flights with a Wi-Fi pass.
Does Delta have free wifi for T-Mobile?
Yes, Delta Airlines offers free wifi to T-Mobile passengers even on flights not equipped with wifi facilities.
How much is wifi on Delta international flights?
Wifi on international flights can cost you between 5 USD and 70 USD. The price depends on the wifi duration and the applicable flight route.
Does Delta first class include wifi?
Yes, first-class includes built-in wifi outlets availability and wifi connection on all flights. 
How to get free wifi on Delta flights?
You can sign in with your SkyMiles account details or sign up to create a new membership account for free Wi-Fi access on Delta flights. 
How to access Delta wifi?
To access Delta free Wifi, you can pay for a Wi-Fi day pass, wifi pass, or be a member of Skymiles, T-mobile, or Sprint memberships. 
Does Delta have wifi on planes?
Yes, Delta offers wifi on the majority of its flights. You can connect with the airline regarding wifi connectivity on your flights.
Do you have to pay for wifi on Delta?
No, it is not mandatory to pay for wifi on Delta flights. You can opt for free wifi with Delta with SkyMiles.
How much does Delta charge for wifi?
Delta free wifi is available on all its flights. However, the wifi charges start at 5 USD for those looking for other wifi options.