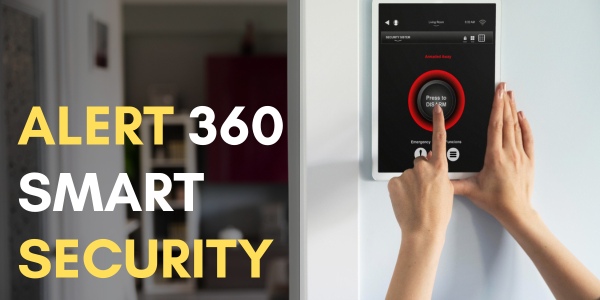 In a world where things change all the time, it is more important than ever to keep your loved ones and belongings safe. Alert 360 has established a reputation for unwavering commitment, exceptional customer service, and advanced technology. The most cutting-edge and sophisticated security solutions are offered by Alert 360.
To guarantee that their clients are constantly shielded from the newest dangers, their team of professionals is constantly creating and testing new goods and services. Their 24/7 monitoring ensures that your security system is constantly under watchful eyes. Your property is protected even when you're not by having their specialized monitoring center respond to alarms quickly and send the proper authorities to handle any potential threats.
What is the process of Alert 360 account login?
The process of logging into your Alert 360 account is simple and straightforward. Here are the steps:
Go to the official Alert 360 login page. (https://login.alert360.com/)
Choose the service for whom you want to log in.
Enter your email address and password in the provided fields.
Click on the "Login" button.
If you have forgotten your password, you can click on the "Forgot Password" link and follow the instructions to reset it.
What is the Alert 360 security equipment?
Alert 360 provides solutions for home security business security systems & commercial security. They have a wide range of security solutions, some of which are listed below:
Touchscreen Security Panel: With its sleek design and user-friendly interface, Alert 360's Touchscreen Security Panel simplifies the process of arming, disarming, and monitoring your home's security system. Seamlessly navigate through menus, view real-time video surveillance, and control your connected smart devices, all from the convenience of a single touchscreen.
Smart Video Doorbell 2.0: Alert 360's Smart Video Doorbell 2.0 provides enhanced security and convenience with its crystal-clear 1080p HD video, real-time monitoring, and two-way audio communication. Stay connected with visitors, deter intruders, and monitor your doorstep from anywhere in the world with this innovative security device.
HD Outdoor Cameras: Alert 360 HD outdoor cameras let you keep an eye on your property no matter where you are. HD quality and great lowlight performance make for crystal-clear video. Use your smartphone or tablet to view live streaming video while away from your property.
Smart Thermostat: Alert 360's Smart Thermostat seamlessly integrates with your lifestyle, providing effortless climate control while optimizing energy efficiency. Set comfortable temperatures remotely, create custom schedules, and monitor your energy usage, all from your smartphone or tablet.
Keyless Door Lock: Experience the freedom of keyless entry with Alert 360's innovative Keyless Door Lock. Enjoy multiple access options, enhanced security, and a sleek design that complements your home décor. Upgrade your home with the future of access control.
HD Indoor Cameras: HD Indoor Cameras provide 24/7 surveillance for your home or business, ensuring that every corner is under watchful protection. With their crystal-clear 1080p HD video, night vision capability, and motion detection alerts, these cameras act as vigilant sentinels, deterring intruders and providing valuable evidence in the event of an incident.
Intruder Detection: Safeguard your property and assets with Alert 360's comprehensive Intruder Detection system. Employ a combination of sensors, network monitoring, and advanced analytics to detect and deter intruders before they cause harm. Experience unwavering protection with Alert 360.
Life Safety Devices: Protect your loved ones from life's unseen threats with Alert 360's Life Safety Devices. Ensure early detection and timely response to smoke, carbon monoxide, and other hazards with our advanced sensor technology and reliable monitoring services. Experience peace of mind knowing you're safeguarded by Alert 360.
What are the ratings of Alert 360 according to customer reviews?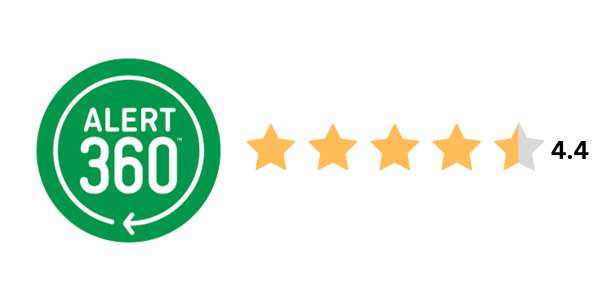 Alert 360 ratings have been exponentially great with 4.4 stars out of 5. The customers are highly satisfied with the products and the services of the company On the flip side, the higher-end prices of the security systems are criticized by some customers.
Positive Highlights
Innovative security solutions.
24/7 monitoring and response services.
Easy-to-use app.
Commitment to excellent customer service.
Professional Staff.
Critical Highlights
Additional Costs.
Limited availability (not available in all states)
Some customers have reported problems with their equipment.
What are the contact options for Alert 360 customer support?
Alert 360 customer support offers multiple means for customers to contact and share their queries and get the desired solutions and help.
| | |
| --- | --- |
| Alert 360 Phone Number | +1 866-484-4800 |
| Alert 360 Sales Contact Number | +1 833-360-1595 |
| Alert 360 Email Address | [email protected] |
| Alert 360 Social Media Platforms | Facebook, Twitter, Instagram, Youtube |
| Alert 360 Apps | For IOS Visit here |
| Alert 360 Headquarters Address | 2448 E. 81st St. Suite 4300, Tulsa, OK 74137 |
| Alert 360 Official Website | alert360.com |
Please note that Alert 360 customer service hours are available 24/7.
Who Are We?
ContactForSupport is an online phone directory that covers a wide array of categories including home security. We offer efficient resources and their contact information with our 24/7 support. You can call us anytime, any day to get your concerns resolved.
Frequently Asked Questions
What is the Alert 360 Security System?
Alert 360 is a home and business security system that protects your property and gives you peace of mind.
What is the Alert 360 monthly cost?
Alert 360 monthly price depends on various factors like what service you will use and how many security products you will use.
What is the Alert 360 email address?
Customers can contact Alert 360 at this [email protected] email address.
What is the phone number for Alert 360?
The Alert 360 customer service phone number is +1 866-484-4800.
What is the Alert 360 corporate address?
The office address is Alert 360 Home, Business, and Commercial Security Systems, 2448 E 81st St. Suite 4300, Tulsa, OK 74137.
Is Alert 360 a good security system?
As per Alert 360 reviews, it is a highly-rated security system that offers a variety of features and comprehensive protection.