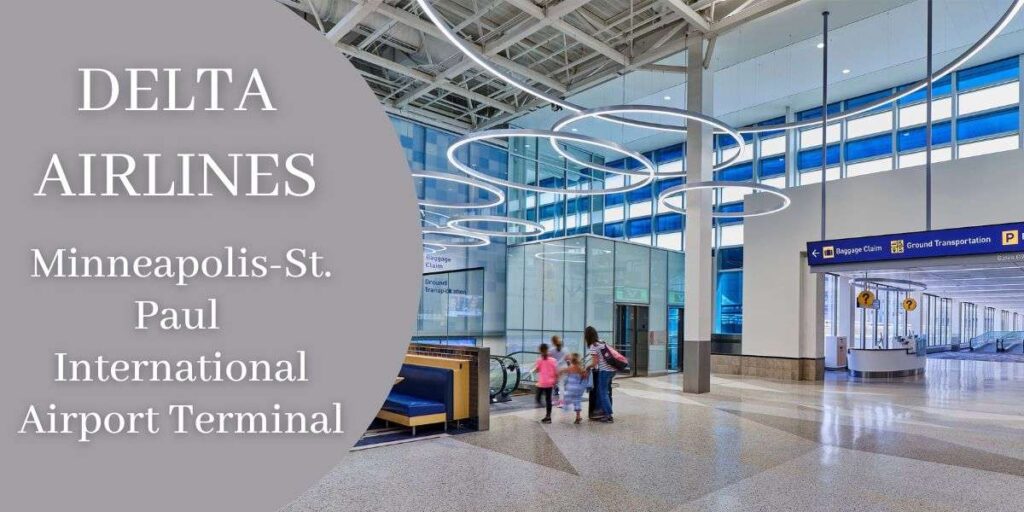 Delta Air Lines is a major carrier & considered the best airline of 2023 in the United States, with its headquarters in Atlanta, Georgia. Delta's extensive network of flights operates from 9 hubs in the country, including Minneapolis-St. Paul International Airport (MSP) is the third-largest hub for airlines with flights to over 120 destinations, both domestic and international including Canada, Mexico, London, South Korea, and Tokyo.
In this guide, we will explore the Delta Terminal MSP, providing you with valuable information to make your flying experience hassle-free.
What you must know about MSP Airport Delta Terminal – An Overview
The below table comprises key information that you know about when flying with Delta Airlines Terminal at MSP:
| | |
| --- | --- |
| Airport | Minneapolis-St Paul International Airport |
| Official Website | www.mspairport.com |
| Airport Contact Number | +1 612-726-5555 |
| Airport Address | 4300 Glumack Dr, St Paul, MN 55111, USA |
| Status | Operating |
| IATA Code | MSP |
| City | Minneapolis-St. Paul |
| Country | United States |
| Airlines Operating | Delta Airlines |
| Official Website | www.delta.com |
| Delta Airlines Arrivals Terminal at MSP | Terminal 1 |
| Delta Airlines Departures Terminal at MSP | Terminal 1 |
What terminal is Delta at MSP Airport?
Delta Airlines operates at Terminal 1 of Minneapolis-St. Paul International Airport, also known as Lindbergh Terminal. It is the main terminal at MSP and houses a total of 131 gates spread across seven concourses: A, B, C, D, F, G, and H. MSP Delta Terminal can be found in Concourses A, B, C, D, F, and G. It is conveniently located and offers a range of amenities and services to enhance fliers' experience.
Here are other airlines that operate from Terminal 1 at MSP:
MSP Delta Terminal Map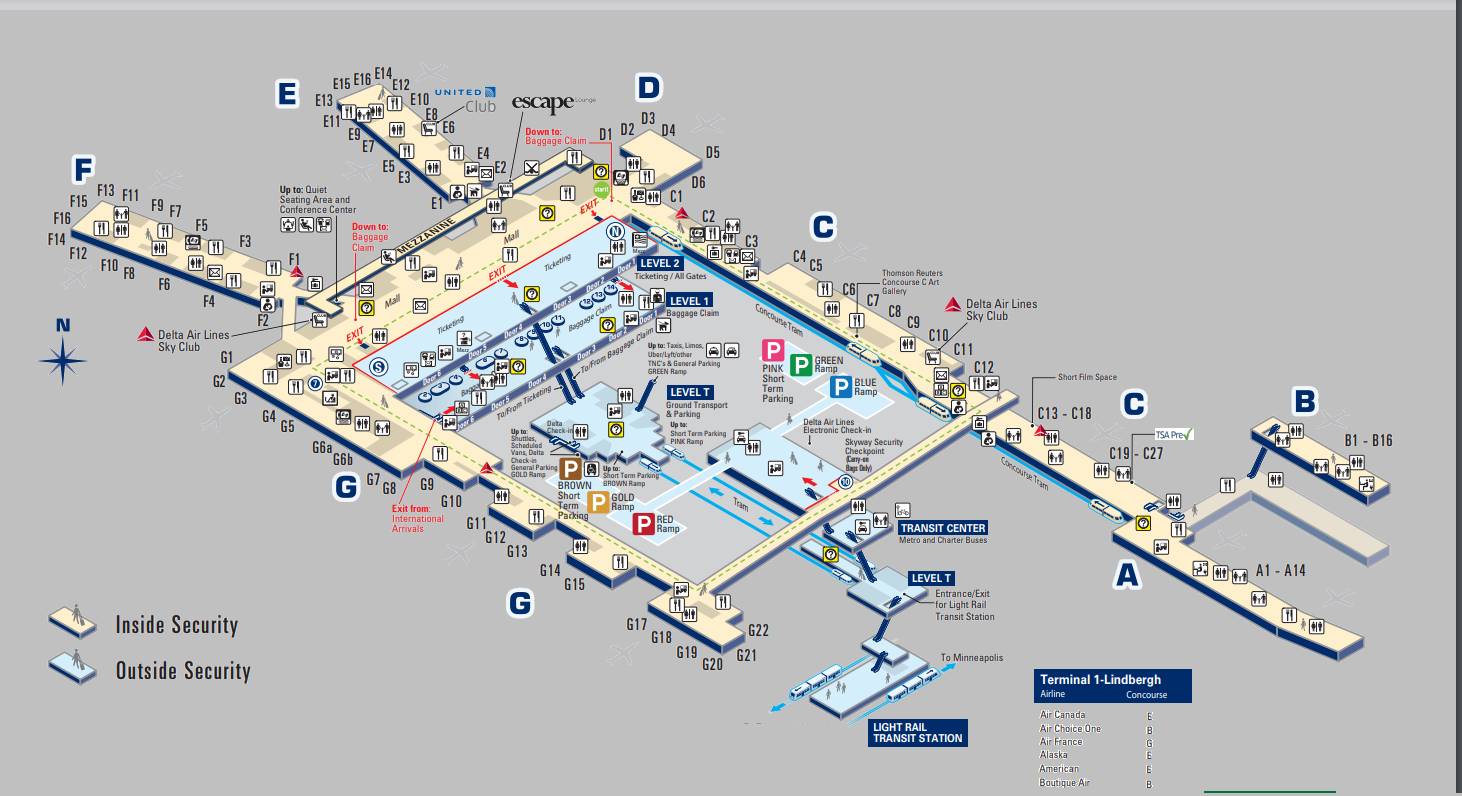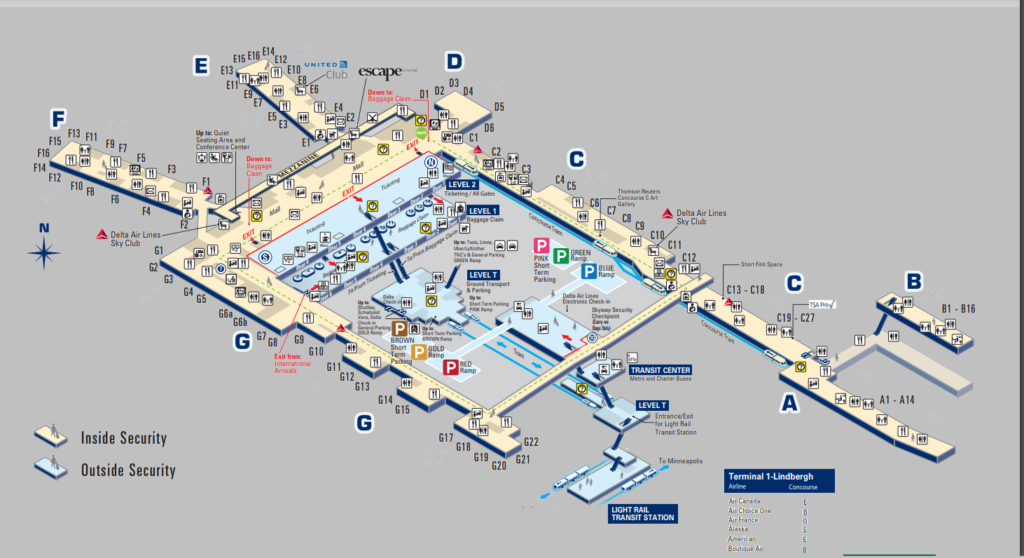 Use the Delta Terminal MSP Map to navigate Terminal 1 at MSP. The map gives an overview of the terminal's layout, including the location of concourses, gates, check-in counters, baggage claim, and other essential facilities.
Familiarizing yourself with the map will help you have a smooth and efficient travel experience within the terminal. You can find and download the map here.
What is the procedure to be done upon Delta Arrivals MSP?
When arriving at Minneapolis Airport Delta terminal, you will land at Terminal 1, regardless of whether you are coming from a domestic or international destination. Flyers must follow the given process after arrival-
Once off the plane, follow signs for baggage claim.
Delta's baggage claim is at Terminal 1's arrivals level.
Retrieve checked bags from the designated carousel.
After collecting your luggage, you can proceed to transportation or explore terminal amenities.
What should be done before Delta Departures MSP?
If you're flying with Delta Airlines Terminal at MSP, you need to follow certain rules for a hassle-free flying experience. Check below:
Finish check-in before heading to the airport. Delta provides several check-in choices: online, Fly Delta App, airport kiosks, or desks.
Arrive at least 2 hours before your domestic departure.
For security and pre-flight formalities, arrive 3 hours early for international departures.
Proceed to the designated gate for your flight after checking in.
How to check in for Delta Terminal at MSP?
The standard operating procedures at MSP Airport Delta terminal have been updated for passengers being dropped off at Terminal 1.
Passengers flying with Delta Airlines can now use its new check-in and baggage drop-off on the departure levels located on the east side. This is also called the Upper East Roadway.
Online Check-In
Online check-in is available up to 24 hours before departure. Here are the steps to follow:
Visit the Delta check-in page here.
Click "Check In" in the header of the page.
Enter your confirmation, SkyMiles, or credit card number to access your itinerary to log in.
Print or get a boarding pass on your mobile device.
Through the Fly Delta App
Below are the steps to follow when checking in through the Delta mobile app-
Download the app here.
Then choose to check in as a guest, log in, or register for a SkyMiles account.
Add your trip confirmation number to view your trips.
Once logged in, auto check-in.
At Airport Kiosk
Check-in, print your pass, add bags, request service, or update your profile with your frequent flyer number by entering your SkyMiles, confirmation, or eTicket number at the kiosk.
Airport Curbside Check-In
Find the Delta curbside located at passenger drop-off at MSP.
Check-in directly after leaving your vehicle.
NOTE: If you bring oversized baggage, you have to bring it to the oversized baggage area. Also, no fee is applied for curbside check-in.
How much are Delta Airlines MSP baggage fees?
In case you are traveling within the United States, it is important to be aware of the baggage fees for the first and second checked bags at Delta Terminal MSP Airport. Have an overview below-
| Bag Type | General Member | Delta Medallion Gold Member | Delta Medallion Gold Member | Delta Medallion Platinum or Diamond Member |
| --- | --- | --- | --- | --- |
| Second bag in basic economy, Main Cabin, and Comfort+ | $30 | Free | Free | Free |
| The first bag in Premium Select, first class and Delta One | $40 | $40 | Free | Free (including the third bag) |
| Free (including the third bag) | Free | Free | Free (including the third bag) | Free |
| Second bag in Premium Select, first class and Delta One | Free | Free (and third bag free) | Free | Second bag in Premium Select, first class, and Delta One |
Depending on your fare class and destination, the fees for international flights may differ. Check Delta's website for the baggage fee calculator to get an estimate.
Where are TSA checkpoints located at Delta Terminal Minneapolis?
If you plan on flying with Delta Airlines to or from Minneapolis, you need to go through the TSA security checkpoints at the Delta Terminal Minneapolis. Here is where you can locate them:
The ticketing level has both the North and South checkpoints for all passengers.
Skyway Security Checkpoint and KCM entrance at Concourse C/G connector bridge are temporarily closed.
International connecting travelers only use Checkpoint No. 7 on Concourse G.
What to do if you lost any item at Delta Airlines Minneapolis Terminal?
If by any chance you misplace an item at the Delta terminal at MSP Airport, you can rest assured that there is a Lost and Found office where you can find it. Once you arrive at Terminal 1, head to the valet level where you will find the office situated in the middle of the terminal. This lower-level office is easily accessible and ready to assist you.
Where to file a report for an item lost
File a report here online, or Call the lost and found office at (612) 726-5141.
Hours of Operation
Available 7 days a week from 7:30 a.m. to 3:30 p.m.
Other ways to locate the lost items
Report suspected theft of your lost item by contacting the MSP Airport Police Department at (612)726-5577.
Lost items on aircraft and in gate areas are the responsibility of airlines. To report a lost item, contact your airline.
Are pets allowed at Delta Minneapolis Airport Terminal?
In case you are flying out of the Delta terminal Minneapolis-St. Paul Airport, it is worth noting that there are pet services and relief areas available for your convenience. The MSP Airport provides 8 pet relief areas in total.
MSP Airport requires all non-service animals to be in kennels. For pet owners traveling from Terminal 1, there are three pet relief areas available. You can find these areas by Gate F6, C/G Connector Bridge, and near the entrance to Concourse E in the Airport Mall.
Flyers must track the weather forecast when traveling with a pet. Your airline may not allow animals in cargo if the temperature falls below 35 or rises above 85 degrees.
NOTE: CDC suspends dogs from high-risk countries entering the US.
Unacceptable Animal Behavior at Delta MSP Terminal
Snarling
Gripping with teeth
Jumping on people is not allowed
Relieving themselves in the gate area or cabin
Non-responsive excessive barking
Dining from tray tables on seats
Other Information for Pet Owners
Traveling customers with a service dog must submit the U.S. DOT form 48 hours before the flight.
If you booked a flight less than 48 hours before takeoff, you must have the Service Animal Air Travel Form to show at check-in or the departure gate.
For 8+ hour flights, the DOT Relief Attestation Form is mandatory.
Choose a seat with ample space for your trained service animal.
Service animals must sit under a seat or in a lap.
Animals can't use seats or tray tables meant for other passengers.
Does Minneapolis Delta Terminal compensate for canceled flights?
If there are any changes in flight status, Delta terminal MSP travelers will be informed within 30 minutes with timely and thorough information. A canceled or delayed flight over 2 hours means rebooking or an eCredit for future travel.
For Cancelled Flights or Rebooking
To request a refund to your original form of payment after we cancel your flight, complete the Travel Disruptions form.
Request a refund and cancel your booking within My Trips if your original flight is delayed for over 2 hours or if we have rebooked you on a new flight.
No Refunds will be issued for the following:
Non-refundable tickets, unless the flight is canceled or significantly delayed more than 2 hours.
Please contact the agency first for tickets purchased from third-party travel sites.
Used travel tickets.
Does Delta Terminal 1 at Minneapolis Airport provide lounge access?
If your travels take you through Delta Airlines Minneapolis terminal, you may be interested in knowing what options exist for relaxing and unwinding before your flight. Terminal 1 boasts several elite lounges that can be accessed through a variety of means, such as memberships, credit cards, or day passes. Have an overview below-
Escape Lounges – The Centurion Studio Partner MSP
The lounge is located on the Mezzanine Level of the Airport Mall, at the north end above Concourse E's entrance. Free Wi-Fi, charging stations, TVs, newspapers, magazines, and food and drink options are available daily from 4:00 AM to 8:00 PM.
Delta Sky Club
It is located at Concourse C, near gate C12. Daily hours are 5:00 AM to 10:00 PM, with free Wi-Fi, printers, scanners, showers, TVs, and snacks. This lounge can be accessed with a Delta Sky Club membership, Delta One/SkyTeam Premium Cabin ticket, Amex Platinum Card/Delta Reserve Credit Card, or a day pass.
PGA MSP Lounge
Located at Terminal 1, Airside. Golf enthusiasts can enjoy unique experiences, including golf simulators, putting greens, club fitting, and lessons, daily from 5:00 AM to 9:00 PM. Free Wi-Fi, TVs, and a bar and grill are available for your enjoyment.
United Club
The lounge is at Terminal 1, Airside, Concourse E, between Gates E6 and E8. A cozy atmosphere with amenities like free Wi-Fi, charging stations, TVs, newspapers and magazines, snacks, and drinks is available daily from 4:30 AM to 7:30 PM.
Which parking options are available at Delta Airlines MSP Terminal?
There is no dedicated area for Delta MSP terminal parking. However, passengers being dropped off or picked up can use the Terminal 1 hourly parking. Some of the features of hourly parking are as follows-
Designed for drop-off and pick-up.
Visits must be under 4 hours.
Hourly parking on Gold Ramp Level 3.
Terminal 1 connected via Skyway.
Terminal 1 clearance is 7′ with a 9'2″ allowance for oversized vehicles.
Automated entrances and exits eliminate waiting in line for parking or leaving. Use one credit card to enter and exit the ramp.
Drive-up pay stations accept all major credit cards.
No cash or check at MSP's parking facilities.
| Duration | Rate |
| --- | --- |
| Initial Hour | $5 |
| Each Extra Hour | $3 |
| Daily Maximum Rate | $30 |
What car rentals are available at Delta Terminal MSP?
Travelers have several car rental options available at MSP. At the airport, you can find multiple car rental companies. Check out the car rentals available at the MSP Delta terminal-
| Company | Phone |
| --- | --- |
| Alamo | 1-800-327-9633 |
| Avis | 1-800-831-2847 |
| Budget | 1-800-527-0700 |
| Dollar | 1-800-800-4000 |
| Enterprise | 1-800-325-8007 |
| Hertz | 1-800-654-3131 |
| National | 1-800-227-7368 |
| Payless | 1-800-729-5377 |
| Sixt | 1-888-749-8227 |
| Thrifty | 1-800-847-4389 |
Are there any hotels near Delta MSP Airport Terminal?
You have a lot of options to choose from when searching for hotels near MSP. These are a few of the top-rated hotels near Delta Terminal 1 MSP Airport.
| Hotel | Location | Amenities |
| --- | --- | --- |
| InterContinental Minneapolis – St. Paul Airport | Connected to Terminal 1 by a skybridge is the closest to the airport. | Enjoy plush bedding, modern decor, and smart TVs at InterContinental's luxurious rooms and suites. On-site amenities include an indoor pool, fitness center, spa, and restaurants/bars. |
| Hilton Minneapolis-St. Paul Airport | Located 1.6 miles from Terminal 1, with free shuttle service to the airport and Mall of America | Hilton's rooms and suites have cozy furnishings, mini-fridges, microwaves, and flat-screen TVs. |
| Hyatt Place Minneapolis Airport South | Located 1.7 miles from Terminal 1 with free shuttle service to airport and Mall of America. | The indoor pool, fitness center, and 24/7 dining options are available for your enjoyment. Hotel amenities include free Wi-Fi, a business center, and complimentary breakfast. |
| Hyatt Regency Bloomington-Minneapolis | Located 1.7 miles from Terminal 1 with free shuttle service to the airport and Mall of America. | Stylish rooms and suites are available at the hotel, along with Hyatt Grand beds, a 24-hour fitness center, an indoor pool, and a hot tub. |
Overall, Delta Air Lines operated at Minneapolis St. Paul International Airport plays a significant role in connecting passengers to their destinations. Delta Terminal at MSP provides passengers with a seamless travel experience, offering convenient check-in procedures, comfortable lounges, a wide range of dining and shopping options, and various ground transportation options.
Frequently Asked Questions
What terminal is Delta at Minneapolis Airport? 
Delta Air Lines operates from Terminal 1 at Minneapolis-St. Paul International Airport.
Does Delta fly into Terminal 1 at MSP? 
Yes, Delta Air Lines operates all of its flights from Terminal 1 at MSP.
Where do you check in at Delta MSP? 
Passengers can check in for Delta flights at the check-in counters located in Terminal 1 at MSP.
What time does the Delta check-in open at MSP?
The Delta check-in counters at MSP open daily at 4:15 a.m.
What terminal is Delta arrivals at MSP? 
Delta arrivals can be found at Terminal 1 at Minneapolis-St. Paul International Airport.
What terminal does Delta depart from MSP? 
Delta departures are from Terminal 1 at MSP Airport.
Are there any codeshare flights operated by Delta at Minneapolis airport? 
Yes, Delta operates codeshare flights with partner airlines such as WestJet and KLM Royal Dutch Airlines at Minneapolis-St. Paul International Airport.